About me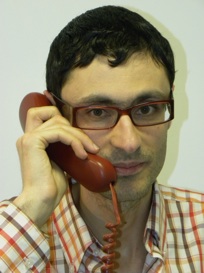 I'm a farmer, Italian teacher and retired BSD/Linux programmer/administrator. You can contact me at:
antonio . bonifati
Please strip any space and add the Google Mail domain to obtain my real email address. Sorry, for the inconvenience, this is done to protect me from spamming.
See my Curriculum Vitae, public Google and Facebook profiles or read my Blog. Get my OpenPGP public key. A list of what I like and don't.
Do you want to talk with me? You can instant message me through Facebook chat. No previous authorization is required. But you need to have a Facebook account, of course.
I want to proudly announce to the world that I have recently reverted my baptism. I am not a Christian, have never been one and won't embrace any other religion, remaining an agnostic all my life. Here's my unbaptismal certificate. About the existence of God, Bertrand Russell once said something really simple and logic I fully agree with: "Either the thing is true, or it isn't. If it is true, you should believe it, and if it isn't, you shouldn't. And if you can't find out whether it's true or whether it isn't, you should suspend judgment".